Wayne Poole Racing - The Team

On this page you can find out more about what we do and the benefits we offer to drivers and sponsors before
meeting
the team members. On the next page you can discover the
history
of Wayne Poole Racing.
WPR, based close to the M5 and A38 in Slimbridge, Gloucestershire has been providing racing services to the Formula Ford 1600 since 1999.
Running one of the largest fleet in FF1600 racing, Wayne Poole Racing has concentrated on the very popular and competitive Castle Combe and Oulton Park FF1600 Championships but can and does enter drivers in events elsewhere in the country as well as the end of season finales at Brands, Silverstone and Combe. In recent years the team has successfully branched out into GTs, Historics and Saloons.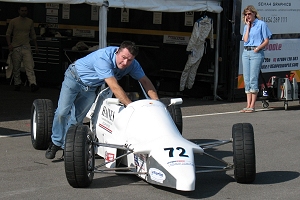 The team principal is Wayne Poole who has had a successful career as a Formula Ford competitor, winning the Class B Championship at Castle Combe in 2000 and who is also an experienced mechanic and engineer. He is ably assisted by his wife Lynn (pictured right with Wayne) who looks after the team members, their guests and the sponsors at events with a hospitality operation that is the envy of most other club Formula Ford teams. Finally there are the team mechanics necessary to ensure the smooth running of a large team which can number as many as nine or ten cars at an event. See the
calendar page
for the list of events we are attending.
Race or test, let us prepare, enter and support your own car or hire one of ours, opt for a full championship season or race by race - the choice is yours. Whatever you decide, you can be sure to receive a professional service in a friendly and supportive environment.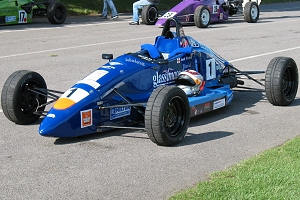 The team has developed an enviable reputation for modern (Combe Class A) converted Zetec Mygales (pictured left) and Van Diemens, which are proven winners and the ever popular late eighties cars from Van Diemen (Class C RF88s & RF89s) and Reynards. A recent move into Sports Racing cars has seen the team successfully take on modern and historic GTs from a Radical SR3 to a Lotus 23B. A large team of mechanics is available to support drivers at tests and events. An extensive range of spares is carried for these cars and with a wide network of contacts just about any item or service can be sourced as needed. With two race trucks, race car transporters and support vehicles the team is able to undertake race and test commitments, complete with spares all over the country.
Novices and experienced racers alike can and do benefit from the wealth of experience within the team. With a number of ex champions in the team driver coaching is taken seriously and many drivers have found this to be an enormous benefit. Car set up is also imprtant and the team can call upon some of the best development drivers in club racing.
Team services:

Full 'arrive & drive' race or full championship service
Supported testing at a variety of UK circuits
Exclusive test days
Sponsor support packages including livery, displays & hospitality
Race car hire for racing/testing to suitable drivers
Driver coaching with dual control race prepared Mini Cooper
At event hospitality
Race car preparation & maintenance
Full chassis up and engine rebuilds
Sourcing of parts and cars for clients
Race car sales


The busy WPR garage at the 2010 WHT meeting, Silverstone

If you are interested in any aspect of competing in a Formula Ford 1600, a Sports Racer or any other competition car then give us a call and we will be happy to advise and assist with your requirements. Click
here
for contact details.
Wayne Poole Racing - Team Members
Lynn Poole

It goes without saying that Lynn has been with the team since the start. In charge of behind the scenes organisation as well as hospitality at events (sometimes with up to 25 drivers and mechanics to keep watered and fed) Lynn has recently run the team at events when Wayne has been away working overseas.

Andy Curry

Andy has been with the team since the earliest days when he helped look after Kevin Nash's Metro.

Kevin Nash

Kevin was one of the original founders of Wayne Poole Racing while he was successfully competing in his MG Metro at Castle Combe in the late nineties. Now retired from racing Kevin has recently concentrated on looking after the GTs run by the team.

Anthony (Chopper)

'Chopper' (Anthony is a helicopter maintenance manager for Western Power DIstribution) has been with the team since 2006 and is a locally based friend of the Poole family. He works with the team at week-ends putting his engineering skills to good use.

Adam

Adam began working with the team in 2011 and is from Chippenham, Adam is a qualified mechanic and took the Motor Sports degree course at Wiltshire College. Adam is now a technician at Dick Lovett BMW in Swindon.

Rob

Rob spent three years with the team while studying at Wiltshire College before moving on to bigger and better things with Fortec. In 2014 Rob moved to Swindon Race Engines and is involved with their BTCC effort but also works with WPR when his schedule permits.

Jack

Jack joined the team in 2010 and studied at Wiltshire College. Having finished college and gained experience with WPR Jack joined Dick Lovett, BMW Swindon as an apprentice. Jack has other interests in motor sport as he takes part in Moto Cross.

Alex

Also new for 2011, Alex is a student at Wiltshire College and is moving on the the Honours course in Motorsport Engineering. Alex previously completed an apprenticeship for a company making body moulds for Land Rover and is putting his mechanical experience to good use by building up a '83 MK1 Golf with 4 wheel drive and a 1.8 turbo engine.

Rob

Rob, formerly a mechanic but now a builder, would love to race but at present just doesn't have the time, but when he does have a little time to spare he helps out the WPR team.

Simon

Simon, a friend of Tom's who has worked with him in the past, also helps out with the WPR team at the big events.

Olly

A new face for 2013 is Olly, a local with a strong interest in Motor Sport and F1. As a friend of the Poole family and the other Rob, Olly will be looking to pick up race team experience throughout 2013.

Tom

One of two new 2013 recruits from Wiltshire College, Tom is from North London and in his first year. In the future Tom's ambition is to become an engineer with a high performance road car manufacturer.

Rob

The other new 2013 recruit for Wiltshire College is yet another Rob who hails from Bath and is also in his first year. Rob has helped out in a Subaru Rally team for a couple of years and hopes, one day, to join a World Superbike or MOTO GP team.

| | | |
| --- | --- | --- |
| The team celebrate a win with the Mygale, Sept '07 | The team's transporter in the Combe paddock, Summer '10 | The team celebrate at the end of the '09 season |